A more sustainable approach to camping
When small, quiet campsites in great locations, that allow campfires and are gentle on the environment are what you are looking for, The Greener Camping Club is for you! We've put 'green' at the forefront of camping and created The Greener Camping Club to fill the void for an Exempted Camping organisation committed to sustainable, responsible, eco-friendly camping. Our Certificated Campsites - which are all privately owned and managed, provide some of the most environmentally friendly, low impact recreational camping experiences in Wales and England.
Notice of Club AGMMembers are reminded that the fourth Annual General Meeting of The Greener Camping Club will be held at Trellyn, Abercastle, Pembrokeshire, SA62 5HJ on Friday, 21st September 2018 at 2pm.

An open meeting will follow immediately after the completion of the formal business of the AGM. Members will be able to raise any matter they wish with Club Officials. Members are asked to consider if it would help the Officials answer their questions by giving at least four weeks notice, so that any necessary research can be carried out.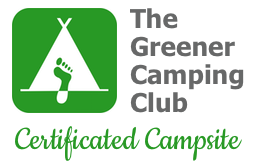 Campsite Owners
The Greener Camping Club was set up with the aim of providing a greener, more environmentally-friendly style of camping experience. If you own and run a small campsite, share our values and are located in England or Wales, get in touch in the first instance by using
this form
. Please note, the Greener Camping Club is not a planning service for new campsites and does not provide campsite planning advice.