Plant a tree with the Greener Camping Club!
The Greener Camping Club takes its responsibilities to the environment very seriously. The Club's tree planting carbon offset scheme is one that all Members can participate in.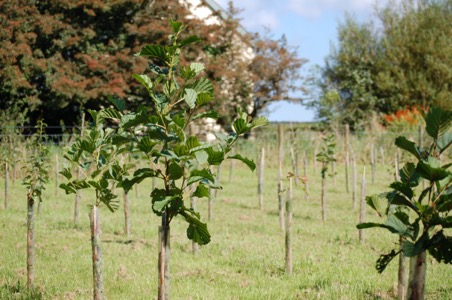 Why do it?
When our Members drive to their holiday destination - which is how most of us get to a campsite, they add carbon dioxide to the environment. Carbon dioxide is a greenhouse gas that contributes to global climate change.
How does it work?
Planting trees is one of the simplest ways to offset this additional carbon dioxide generation, because trees absorb carbon dioxide to produce oxygen. The amount of carbon dioxide a tree will offset depends on many factors, such as the type of tree, where it is planted and the amount of room it has to grow. On average, one broad leaf tree will absorb in the region of one tonne of carbon dioxide during its life-time.
What are we doing?
The Greener Camping Club has set up what we think is a first for the tourism sector - a native broad leaf planting scheme, involving the planting of several thousand trees per year. Tree species include oak, alder, hawthorn, wild cherry, crab apple, aspen, rowan and downy birch, to name but a few.
How do Members contribute?
When you book a camping holiday with a Greener Camping Club site, there is a requirement to join the Greener Camping Club. The membership fee is just £10, which is added to your camping fees. When you pay your fees, you are issued with your membership e-card - and your membership is counted towards the number of trees allocated to the campsite. At the end of the year, during the tree planting season, all the Greener Camping Club sites receive their allocation of trees to plant. Those sites that do not have room to plant trees can donate theirs to another site, or to a local tree planting project.
If you would like further information, eg. how many trees your chosen campsite planted last year, send an email to
headoffice@greenercamping.org
.
--